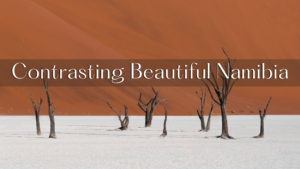 When I tell people I once lived in Namibia, their first question is almost always "Where is that?" I usually go on to explain that it's a country in Southern Africa (just north of South Africa); it's twice the size of California but only has about 2 million people; most importantly, it is one of my favorite places on the planet. If they decide to listen to me ramble on long enough, they'll hear how there are more than 15 languages spoken – English is the only official language, but many Namibians first languages are Oshiwambo, Otjiherero, KhoeKhoeGowab & Damara (languages that incorporate clicks), Afrikaans, Rukwangali, Silozi, and many more. You will often hear conversations that start out in English with some Afrikaans sprinkled in and then transition to Ojtiherero or KKG. As a Peace Corps volunteer teaching English and living in Southern Namibia, I learned to speak Afrikaans.
In Namibia, greetings are an artform. Each language has their own unique sequence of phrases, questions, and sometimes gestures, that come together to express more than just a quick "hello." This gives you a sense of the importance of community here.
Here is a quick look at the cultural and linguistic diversity that exists in Namibia:
As Biotrek returns to Namibia next year, we have adjusted the itinerary just a bit so we see more of the southern region. Our first stop is Fish River Canyon, the largest canyon in Africa and the second largest in the world, after Arizona's Grand Canyon. This massive canyon is 100 miles long, up to 18 miles wide and in some places almost 1800 feet deep. Our lodge is situated right outside the main park on a canyon of its own. Here we will enjoy hikes and sundowners along the rim. 
We're also adding the southern coastal town of Lüderitz to the itinerary. To get here, one must travel through the Namib desert by road, with the Namib-Naukluft National Park to your right and the The Tsau ǁKhaeb National Park (formerly known as the Sperrgebiet) diamond mining area to your left. As you journey down this road, you will see oryx (Namibia's national animal) ostriches, springbok, brown hyenas, and the possible Woestyn Perd, or Desert Horse. These mysterious wild horses have adapted to the Namib desert and are likely the descendants of horses brought by German colonizers in the early 20th century (though no one is certain). You might mistake them for a hallucination on the horizon, so keep an eye out!
A telltale sign you have almost reached your destination is when you catch a glimpse of the abandoned diamond mining town of Kolmanskop emerging out of the dunes. This German colonial ghost town was once a prosperous center for diamond mining in the Sperrgebiet, which stretches from the road to Lüderitz all the way to Namibia's southern border with South Africa – the Orange River. In its heyday, Kolmanskop had a functioning school, hospital, ballroom, theater, several mansions, a tram, and even a casino! Since its decline after the discovery of other, more prosperous diamond fields elsewhere in the country, it was slowly swallowed up by the shifting dunes of the Namib. You will spend a morning wandering and photographing the structures, inside and out, while trying to imagine what life was like in this once-opulent town.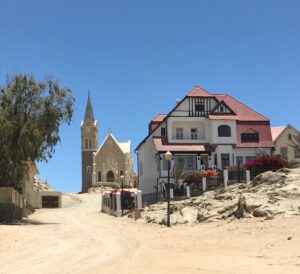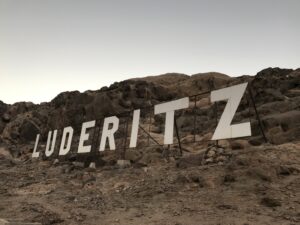 Past Kolmanskop, we descend the ridge into Lüderitz proper, past their own city sign a la "Hollywood," into a still-bustling town where the Namib meets the Atlantic Ocean and German colonial architecture still stands. Here we enjoy a catamaran trip past the Diaz Point Lighthouse to Halifax Island to see penguins, dolphins, seals, and maybe even a whale.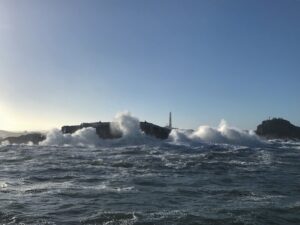 Just as you should learn about the language of culture, you should also take time to learn its history. In Lüderitz, Shark Island was one of five concentration camps in Namibia, known at that time as "German South West Africa." It was used by the German Empire during the Herero and Namaqua genocide of 1904–08. Between 1,032 and 3,000 Herero and Nama men, women, and children died in the camp. There are several monuments in memorial to this devastating time in the history of Namibia.
As the lyrics in its national anthem says, Namibia is a contrasting and beautiful country. It truly is a destination you should experience for yourself. 
Stay tuned for part 2 to learn more about Central and Northern Namibia. Click here for all the trip details.
By Alyssa Brown