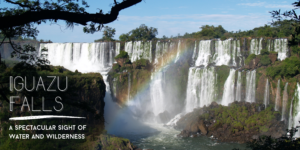 Upon lying eyes on Iguazu for the first time, Eleanor Roosevelt is said to have exclaimed "My poor Niagara!" Now, we here at Biotrek don't like to get into the messy business of comparing places like this; we believe that every destination is unique and inherently beautiful. Buuut…  We have to say Eleanor certainly wasn't wrong.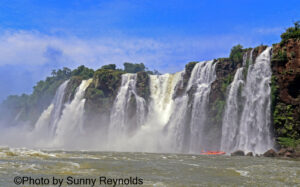 Iguazu, or Iguaçu, Falls is one of the world's most extraordinary natural wonders. Nestled on the border of Argentina and Brazil, this magnificent waterfall system is a testament to the awe-inspiring power and beauty of nature. The name "Iguazu" comes from the  Mbyá-Guaraní indigenous people's language and means "big water" (for obvious reasons). The Argentine Iguazú National Park was created in 1934 and the Brazilian park was founded in 1939, both with the aim to protect the subtropical rainforest and the falls.
With over 275 individual falls spanning nearly 2 miles, this UNESCO World Heritage site is a true masterpiece of nature's artistry. As the mighty Iguazu River plunges into the abyss, it creates a symphony of roaring water, mist, and rainbows that will leave you utterly spellbound. Both national parks, the Brazilian and Argentinian, make this region one of the largest natural protected areas in South America. 
We start our adventure on the Brazilian side, offering a wider view, which allows you to appreciate the grandeur and sheer scale of the falls.  As you traverse the well-designed walkways and platforms, make sure to have your camera ready to capture postcard-perfect vistas!
The following day, we explore the Argentinian side of the falls. The highlight here is undoubtedly the Garganta del Diablo, or the Devil's Throat, the largest of all the individual falls. We have the opportunity to get up close and personal on the Argentinian side with a thrilling boat ride that takes a right into the heart of the cascades.
Iguazu Falls is not just about the falls themselves; it's also a gateway to a pristine rainforest ecosystem. Take some time to explore the lush wilderness surrounding the falls, where you'll encounter a dazzling array of flora and fauna. Keep an eye out for colorful butterflies, playful coatis, and perhaps even catch a glimpse of a jaguar silently moving through the foliage. Our lodge is located in the heart of the Misiones jungle where you can see the rainforest right from your balcony.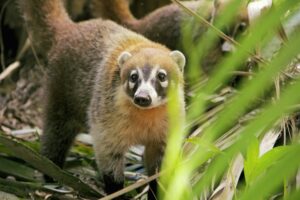 Visiting Iguazu Falls is a transformative experience that will leave a lasting impact, just as it has been for millions of other travelers. The sheer power, beauty, and magnificence of the falls are unmatched, making it a must-visit destination for any nature lover and adventure enthusiast – perfect for the Biotrek traveler! And just like Eleanor Roosevelt, it might even have you saying, "Poor Niagara!" 
Embark on this journey of a lifetime March 9 – 23, 2024. Take advantage of our early bird pricing for a discount if you sign up before October 15!
By Alyssa Brown