Biotrek excursions are full of photo opportunities. The question we always get is: What kind of gear should I bring? Like almost everything about photography, the answer is, "It depends." That answer is never adequate, so here are some thoughts from our photographers who travel.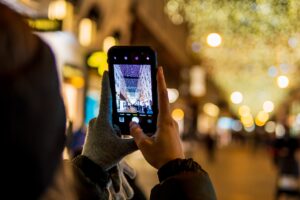 Just Use Your Phone!
Bring the least cumbersome amount of gear you can. A simple camera phone is enough for most folks. Phone cameras these days are excellent – much better than the gear us older generation photographers grew up with. They have automatic focusing and different lenses for wide or close up photos AND videos. They'll adjust the light meter to give you a good exposure and have a small flash for night photos. You can take a hand-held panorama photo of the scenery. Most even allow you to geo-tag your photos, so you can know exactly where you were. For those who insist on the highest quality photos, today's camera phones can shoot in RAW. Along with the many photo attachments and apps available, these cameras can do the job.
You Want More?
OK, I get it. Some folks are just not going to settle for a camera phone. (I don't, either). Let's discuss some other options.
Very Small and Lightweight
There are several point and shoot cameras that have good capabilities and are easy to carry. These cameras don't have interchangeable lenses, but they can shoot in RAW and are loved by many photographers. The model most highly rated of these cameras seems to be the Fujifilm X100V.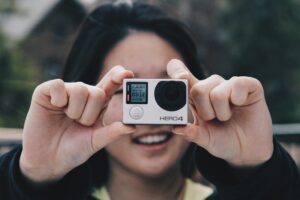 Action cameras may be the solution for you. These very small cameras are available for very little money (by camera standards) and can still give you more capability than your phone. They are usually waterproof. They can shoot RAW photos and 4k video. They don't have interchangeable lenses, but can shoot wide angle or moderate telephoto. Some examples are GoPros and DJI Osmo, but there are many others. We recommend the GoPro as the most versatile – It's what we carry on nearly every trip.
Small, with lenses.
Some excursions we offer can have more adventurous conditions, which may dissuade you from bringing heavy camera equipment. For example, our Galapagos and Arctic trips are primarily on boats, with frequent Zodiac trips. For these trips, I take my micro-four-thirds cameras. I use the Olympus OM-1 and Panasonic G9. These cameras have most of the capabilities of the full-frame and APS-C cameras, but are much smaller and lighter. They have a full complement of lenses and the lenses can be used on any brand of MFT camera. You can't do that with the other camera companies. The MFT lenses are much smaller and lighter than their full-frame equivalents. I can fit two cameras and four lenses into a shoulder bag, which then fits, comfortably, into my dry bag for those Zodiac rides. The OM-1 has subject tracking (people, birds, animals, vehicles), just like the newer full-frame cameras. They have about 20 megapixel sensors, which are just fine for printing large photos.
Look at this comparison of a MFT camera with a 600mm equivalent next to a full-frame camera with a 500mm lens. That big lens weighs 5.5 pounds – by itself!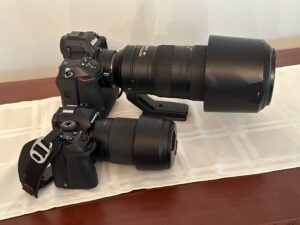 The Big Stuff
 You're still not convinced you don't need your professional gear? Well, alright, alright. I don't need to tout any specifications here; you know why you use this gear and are prepared to lug it around on the trip. If the Biotrek excursion you joined is one of our easier trips, you'll probably be fine. You may want to consider a good "walkaround" lens, like the 24-120mm for your primary lens. It can fulfill most of your needs. We always work in free time to wander on our trips, so you can bring other lenses for your favorite genre. Zoom lenses will give you the most versatility and allow you to carry fewer lenses (but you already knew that).
Other Bag Fillers
Some airlines are now limiting the weight of carryon luggage, so be careful how much you put in that fancy camera bag. You'll need extra batteries and memory cards. It's always sad to miss out on a great sunset because you've used all your batteries during the day. Have you considered the ever-fashionable photo vest? It is much easier to wear during the day instead of carrying a camera bag. I rarely bring a laptop, since I don't want to spend time editing when I could be out in the evening. But I do backup my files, daily, with my 2Tb backup device. It weighs nothing and keeps my photos safe. As always, you'll need your chargers, extra batteries and memory cards, and a good strap. 
We can help you during the trip with photo questions. I (Roger) am our main photographer, and I have decades of experience. If I'm your Biotrek guide, ask me anything photographically related. I probably won't be able to stop talking about it!
And hey, if you're buying some new photo gear, consider lending us a hand. We have a Travel Gear tab on the top of our home page. If you click on any item, it will take you to Amazon. You can log into your Amazon account from there and go buy whatever your heart desires. It doesn't have to be something listed on our page. We will make a few pennies as a commission, but your purchase price will not change. 
We're so glad you've decided to travel with us. You're going to have a great time!
By Roger Dallman, Jr