Deutschland ist wunderbar!
Are you considering our December Germany trip? Sign up now, so we can lock you in. We have to make reservations for the hotels and tours because they're already filling up – There is only room for 10 travelers on our small group travel excursion!
Joining us in Germany will be Allan Attridge, a professional photographer and videographer. He is half of the Two Hosers Photo Show, a popular podcast that has 12 years of photography information. He will be with the group for the entire tour, helping with photography tips and questions. We have included two photo sessions on this trip. You won't need any special gear or a fancy camera to enjoy these sessions. Your camera phone is just fine. The first session is on December 4th where we will cover the basics and how to improve your travel photos. The second will be on December 8th to discuss basic editing and photo sharing tips. Both are free and optional.
We travel the afternoon of December 1st and land the next morning in Stuttgart, where we board our private transportation to Augsburg. After a short ride along the Autobahn, we will arrive at our hotel. Augsburg will be our home base for several days, as it is a convenient city from which to take our day trips. We will  have plenty of time to explore this historical location and its surroundings.
Founded in 15 BCE by Augustus Caesar, Augsburg is one of Bavaria's oldest cities at more than 2,000 years old. It has an interesting history and many noteworthy sites, all within easy walking distance of our hotel. It is the home of the Fuggerei, a part of the city devoted to housing for needy citizens (established in 1516 and still in use today). In 1530, Martin Luther presented the Augsburg Confession, the primary document of the Lutheran Church. St. Anne's Church, a major player in that history is also less than a mile from our hotel.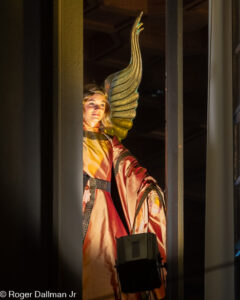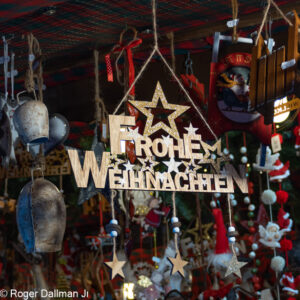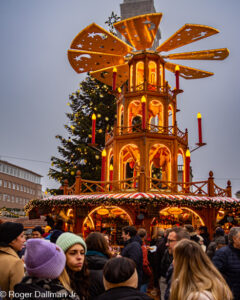 Our first evening in Augsburg, we'll walk to the Kristkindlmarkt, the oldest and one of the most beautiful Christmas Markets in Germany. It is located in the town square directly across the street from the city hall.  Enjoy the irresistible smells and delicious flavors of the gluhwein and food while we browse the shops for Christmas ornaments and local wares. At 6 p.m., we'll see the "Engelsspiel," a one-of-a-kind experience with girls from Augsburg dressed up as Angels and performing in the windows and balconies of the Rathaus (city hall).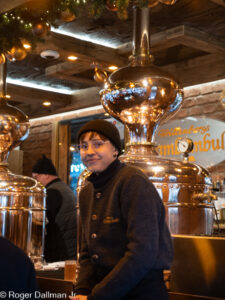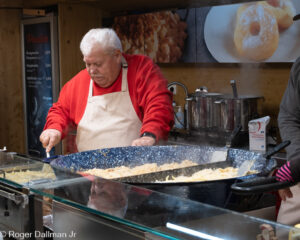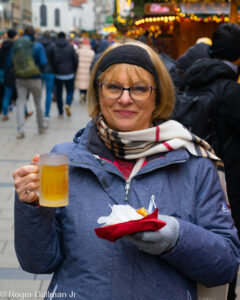 The next day, we're off to Neuschwanstein Castle. Construction on this famous castle began in 1868 by King Ludwig II of Bavaria and was halted at his death. Walt Disney even used Neuschwanstein as a model for Cinderella's castle at his parks. We will be taken up the winding mountain road via a carriage ride from the village of Schwangau. After our tour there, we'll visit the 19th century palace of Hohenschwangau Castle. This castle is often overlooked because it isn't as flashy as Neuschwanstein, but it is just as impressive. It was the childhood home of King Ludwig II and was built by his father King Maximillian II. There are many other beautiful sites to see in this area and along our trip back to Augsburg.
Monday, December 4th, is a day for you to explore. A morning photography discussion will be held in the hotel for those interested. Allan and Roger will give a short presentation and answer any questions you have. Then we're off to explore the city. Public transportation is reliable,  inexpensive, safe, and clean. If we have a group consensus, we can have a driver take us to one or more of the locations.  Here is a link to some of the more popular sites to visit. https://www.planetware.com/tourist-attractions-/augsburg-d-ba-aug.htm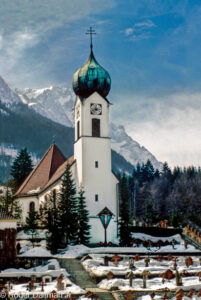 On Tuesday, our driver will lead us to the Alps for a cable car ride to the top of the Zugspitze, the highest peak in Germany. From the summit, you can see 4 countries – Austria, Germany, Switzerland, and Italy. We'll have time to take photos; see the glacier ski slopes; and eat a nice lunch (and enjoy a beer!) overlooking the Eibsee and mountain peaks. When we return to the bottom, we'll explore the lovely Bavarian towns of Garmisch-partenkirchen and Grainau.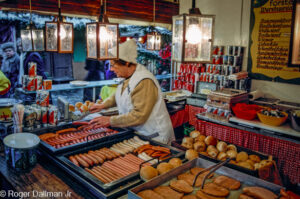 On Wednesday, it's time to relocate. We'll take a short ride to Nurnberg with a late lunch included at the Bratwursthaus for their famous Nurnberger Brats. Since 1312,  Nurnberg Bratwurst have been produced in-house and grilled on an open beech wood fire. You are free to visit the many sites in this famous Bavarian city, but make sure you stroll through the most famous of the Christmas Markets. It's just around the corner from the Bratwursthaus!
On Thursday, we'll travel to Rothenburg ob der Tauber. This town was established in the first century CE. It is known for its well-preserved medieval old town, and is part of the Romantic Road through southern Germany. It is one of only three towns in Germany that still have a completely intact city wall. We'll visit the Spitallbastel Gate, Plonlein Square, and St. James Church. There will be time to wander freely through the town, as well.
Our second photography session is on Friday, December 8. We'll talk about basic post-processing of your photos. Again, this is optional. We have the rest of the day to walk around this historic city. Beyond its main attractions of the Imperial Castle, St. Lorenz Church, and Nazi Trial grounds, there are 54 different museums for arts and culture, history, science and technology, as well as more niche categories, where visitors can see the world's oldest globe (built in 1492), a 500-year-old Madonna, and Renaissance-era German art.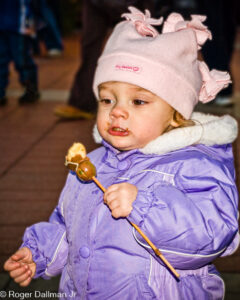 Saturday we move to the old town of Tubingen, a town dating back to Roman times. The local castle, Hohentübingen, has records going back to 1078, when it was besieged by Henry IV. We'll tour the old town's landmarks and walk along the Neckar River that runs through the heart of the city. Our hotel is situated right on the banks of the Neckar. Dinner in a friendly gasthaus. If you need more Christmas market time, there is a quaint one near our hotel.
On Sunday, we'll have a short ride to the airport and fly home with photos and memories of a great visit.