At one point in my travels, I found myself sitting on the patio of a small hotel overlooking pristine white beaches taking an afternoon rest. I was in South Asia. Among those lounging about was Sir Arthur C. Clarke, notable for his science fiction blockbuster 2001: A Space Odyssey. I later learned that he relished this part of the world and came as often as he could. As we comfortably chatted, a praying mantis landed on my knee. As I was about to brush it off, he told me that I was very lucky that it had chosen me to visit. So, I let it sit there awhile although I am not a fan of insects – particularly rather large iridescent green ones with triangular heads. But, I took a lesson from Clarke and the culture around me and treated it with respect.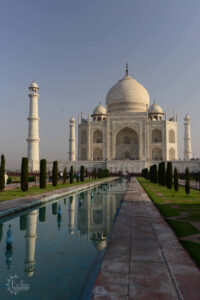 In India, guests reach a near god-like status and are very welcomed. The country is large and divided into nearly 30 states with as many languages.  India is complicated and affects people in different ways. While it may be teeming with humanity, its history, mystique and charm are undeniable. There's lots to love.
I'm a romantic so I opt for the 'love it' option. What's not to love about the Taj Mahal? Aside from the fact that it is constructed with white marble, it is architecturally a magnificent structure combining Indian, Persian and Islamic styles of architecture. The architect, Ahmed Lahauri, had a vision of paradise in his pristine structure that took more than 20 years to build. And it is reported that it took more than 20,000 hands to create, from laborers and stonecutters to painters, embroidery artists and calligraphers to name just a few.
The Taj Mahal is one of the world's most symmetrical structures. Its four sides are perfectly identical. Yet, it has its moods, like a woman, like a lover and viewed at different times of the day, you'll see its creamy white turn to a pinkish hue. With its marble and tile, the Taj Mahal has a tremendously reflective character. It's a particular attraction with a full moon. Sunrise is spectacular.
Speaking of symmetry, I'm reminded of one of my favorite poems by William Blake.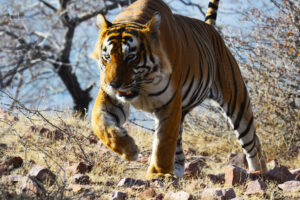 Tiger. Tiger. Burning bright,
In the forests of the night;
What immortal hand or eye.
Could frame they fearful symmetry?

Among the world's cats, while fearsome, the elegant and sleek beauty of the Bengal tiger is unrivaled. Sadly, most of the world's large species of cats are on the endangered list. So, a visit to Ranthambhore National Park gives hope, learning about the Indian government's Project Tiger, a conservation program launched in 1973 during the administration of Prime Minister Indira Gandhi. Its mission is to sustain a viable population of Bengal tigers in their natural habitats. The government has set up a Tiger Protection Force to not only combat poachers but fund relocation efforts to minimize human-tiger conflicts. If you're an animal fan like myself, you'll enjoy seeing a host of animal and bird life from crocodiles to sloth bears and black storks to serpent eagles – bring your camera – suspect you'll see a tiger or two as well.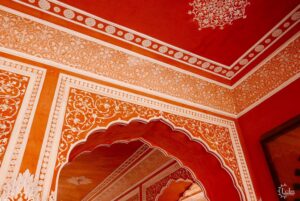 If ever there was a movie that would entice you to India, in my book, it's got to be The Best Exotic Marigold Hotel with a cast of characters that, in many ways, captures much of the heart and soul that is India – romantic, chaotic, well meaning, funny, colorful, ritualistic and honorable. The movie is set in Jaipur – known as The Pink City – and when you see a couple of soon-to-be star-crossed lovers from the film scootering through the narrow streets of pink-colored buildings, you'll know why it's called that – most of the structures are a shade of pink.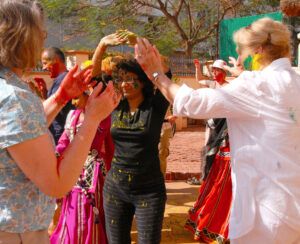 Crazy for color? Dhulandi (Holi), known as the "festival of colors" is a Hindu festival celebrating the triumph of good over evil and the changing of the seasons. Out bad winter and welcome spring! It's held in The Pink City. Dancing and parading with a troupe of dhol players – traditional wooden drum played in South Asia – participants will splash each other with water and powdered colors of red, yellow, blue and green. It's a vibrant burst of living color to be sure as family and friends come together to laugh, dance and feast. Residents of the city put in a lot of effort and heart into this unique festival not to be missed if you are vising  Jaipur during this time. Truly a memorable experience.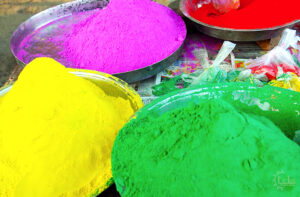 While the Taj Mahal is no doubt at the top of the list when it comes to regal structures, there is no shortage of forts, mosques, palaces and temples to dazzle and delight. Amber Fort overlooks the Maota Lake. A network of palaces and courtyards winds its way up a hill.
Magical and mysterious, India is full of surprises. One such place worth a visit is the town of Fatehpur Sikri, a complex of intricate structures made of red stone clay, this town is in the Agra District of Uttar Pradesh. It was built in 1571 by Emperor Akbar, partially abandoned when he left for a campaign in Punjab and then completely abandoned in 1610. Standing more than 175 feet high and massive in structure and design, the Buland Darwaza, marks its entrance. Let your imagination do some spinning. Why would you totally leave such a place?
When you visit Delhi, be sure to see the Lotus Temple, so named because of its flowerlike shape. It is a Bahá'í House of Worship open to all regardless of religious affiliation. Aside from its architect Furiburz Sabha winning many awards, it is surrounded by lush and alluring gardens, well worth a look see.  Modern in design, while in stark contrast to many of the ancient structures, it speaks to a side of India today that is forward thinking yet at the same time honoring the rich legacy of this country's rich past.
W
hile small in stature, Mahatma Gandhi was larger than life. An Indian activist and leader of the Indian independence movement against British rule, he led his cause using nonviolent acts of civil disobedience. Not only did he lead India to independence, he inspired worldwide movements for civil rights and freedoms around the world. You can learn more about his life at the Mahatma Gandhi Museum in New Delhi.
Mixed in with so much to see, there's lots to hear, smell, taste and touch as India is alive with exotic foods, colorful markets and bazaars and the teeming life of the streets.
Oh, and you can be lucky enough to visit without a praying mantis landing on your knee.
Good things come in small packages. Traveling in a smaller group insures that you will have a more intimate experience and the flexibility and freedom to explore. Biotrek Adventure Travels offers just such a package for the discriminating vagabond.
Visit www.biotrekadventuretravels.com or call 540-349-0040
Anita Sherman is the community editor for the Fauquier Times, a freelance writer and a sometimes-itinerant traveler. You may reach her at anitajustwrite@gmail.com