I'm a writer and keeper of journals. When I went with Sunny Reynolds with Biotrek Adventure Travels to the Galapagos Islands a friend gifted me a small, leather bound book for notetaking and jotting down impressions. I can look back, read a few lines and remember that particular magic moment.
Those once in a lifetime moments uniquely offered when you make that decision to go on an adventure. How you experience those unforgettable moments matters. What you are seeing, smelling, hearing and tasting has much to do with where you are and how you got there.
Speaking of unforgettable moments, let's talk about Morocco, a destination planned for October of this year. I was chatting with a good friend of mine recently and mentioned Morocco. His eyes lit up and he said, "wow, I can think of a lot of movies made in Morocco."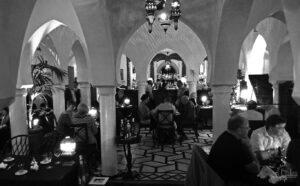 Of course, Humphrey Bogart's portrayal of Rick Blaine immediately came to mind in Casablanca, but that filming never left Warner Brothers Studio except for some shooting at Van Nuys Airport. However, having dinner at Rick's Cafe is definitely worth the memories. The restaurant and piano bar are designed with architectural and decorative details reminiscent of the film – watch for shadows cast on the white walls from the light of luminous brass fixtures. The food is excellent and, of course, there is a pianist on hand to add some music as time goes by in Casablanca.
There are, however, dozens of films that were produced in this North African denizen of medinas and souks.
Morocco has spectacular year-round weather. The sun shines just about all of the time. It has a range of landscapes from its fantastic deserts, many with massive fortifications, to its labyrinth-like and beautiful cities to its coastal towns. Filmmakers have been drawn to Morocco and Morocco, in turn, has been very hospitable to them, making it a good match. With Morocco as a backdrop, this country continues to be a dream destination favorite for mystery and adventure aficionados as well as romantics.
I know that some of my earliest images of the beauty of this land came from watching Peter O'Toole, clad in flowing white robes, with his dazzling blue eyes, looking out over oceans of pristine desert in Lawrence of Arabia filmed in 1962.
Author's impressions of Morocco can be found in works like Marrakech the Red City, which contains George Orwell's impressions of Marrakech.
Cr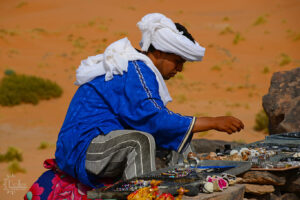 edited for being the first travel guide of Morocco, is In Morocco, written by American novelist Edith Wharton in 1920. Her work contains vivid encounters with the wild Berber tribesmen in the Medina of Marrakech and in the houses of the gentry with their restricted role for women. She also talks about the harems of Rabat and Fez.
A Year in Morocco by Peter Mayne will give you a glimpse into life in Marrakech and is useful for understanding some of the foibles, customs and pitfalls of setting up a home there.
American novelist Paul Bowles loved Tangiers. He spent 52 years living there and he wrote about the city he cherished in Travels: Collected Writings. His novels and short stories include Morocco often and he recorded Berber Tribal music which is now preserved in the US Library of Congress.
Oh, I mentioned Peter O'Toole's blue eyes and white robes for a reason. You'll see a lot of blue and white in Morocco in terms of a color theme.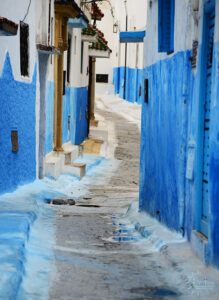 And shades of blue. Shut off from the world for nearly 500 years, Chefchaouen is one of Morocco's best kept secrets – it's an all blue city and now open to visitors. Talk about magical charm and mystery, this hilly Moroccan outpost will grab at your heartstrings. Where's my journal.
There are a number of theories as to why these buildings are bedecked in blue whether to mirror the surrounding sea, as a color of optimism and happiness, tranquility or perhaps deeper religious or cultural meanings. You'll see men garbed in blue in the desert as well and blue fabrics and blue prayer mats.
Whatever the reason, Chefchaouen is dazzling and worth the several hour jaunt from Fes to get there.
Oh, those handsome men wrapped in blue in the desert are often with one-humped Arabian camels called dromedaries. They will be your cruise ship of choice when it comes to navigating the seas of the Sahara Desert and sand dunes of Erg Chebbi.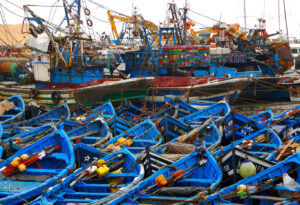 Sunny tells me that her favorite spot in Morocco is Essaouira. This medina is walkable. It's also blue and white and has an active fishing port. Oh, and that 50s movie Othello was shot there, a fan favorite for Orson Wells.
Also, walkable but perhaps more challenging is the largest medina in the world, the old capital of Morocco, Fez. With more than 9,500 narrow streets, it is possible to lose your way. I didn't say getting lost, because winding your way through this labyrinth is a travel adventure. One piece of advice is that you might want to keep your sunglasses on as you shop – merchants may spot you looking and assume you're ready to haggle. No set price tags in the souks of Morocco's medinas.
Another celebrity that has put Morocco on the map is fashion designer Yves Saint Laurent. Featured in the 1997 Chelsea Flower Show in London, the Majorelle Gardens, that he formerly owned, has become another 'go to' stop in Morocco. The buildings, of course, are cobalt blue but splash that canvas with bright orange nasturtiums, pink geraniums and yellow lemons. More than 15 different birds have made the Majorelle Gardens their home. They enjoy flitting from bamboo groves and date palms to lily covered pools.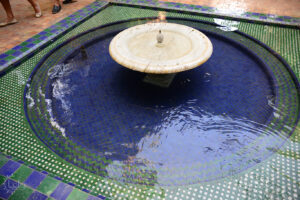 So, your pre-travel diet should consist of watching a few flicks filmed in Morocco to get a sense of flavor, spend some time reading what others have already written about Morocco and finding a friend in a journal.
It's also important to choose the right travel guide, someone who has walked where you will walk, seen what you will see and share what she has learned. Unless you have unlimited time, your resources are best devoted to an expert who has paved the way for your journal of unforgettable moments.
See you in Morocco!
Good things come in small packages. Traveling in a smaller group insures that you will have a more intimate experience and the flexibility and freedom to explore. Biotrek Adventure Travels offers just such a package for the discriminating vagabond. Visit www.biotrekadventuretravels.com or contact 540-349-0040
Anita Sherman is the community editor for the Fauquier Times, a weekly columnist for the Culpeper Star Exponent, a freelance writer and a sometimes-itinerant traveler. You may reach her at anitajustwrite@gmail.com