---
Day 1: US Departure
Day 2: IN – SANTIAGO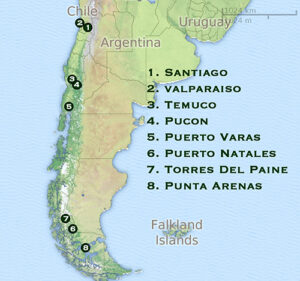 Welcomed to Santiago Airport by our in-country guide and transferred to Hotel Galerias. The rest of the afternoon we will pass at leisure. Walk through downtown Santiago or find a nice café and relax. The real adventure begins tomorrow.
Day 3: VALPARAISO
– breakfast provided
After breakfast at Hotel Galerias we will leave for the town of Valparaiso.
Valparaiso is a city of color, a beautiful coastal town about 70 miles west of Santiago. The houses are all brightly colored. There is beautiful street graffiti; well renowned local artists, upon request, create most of it. It is incredible, it is for everyone and it is unique. We tour of one of Pablo Neruda's houses and ride the cable cars to get an impressive view of the harbor. We will have lunch at a local café and a coffee before we leave. Nestled in the hilly coast this young, active, artistic, character rich town will impress even the most seasoned traveller.
On our way back to Santiago we will stop at the world famous Emiliana Organic Vineyards. The vineyard is located in the heart of the Chilean county-side, surrounded by hill of grapevines. Their mission is to make outstanding wine using sustainable and environmentally friendly practices. Emilian's charm will capture you as soon as you arrive. Chickens run along the driveway with a line of chicks following close behind. Alpaca, Horses and cows live on the property and bees that make local honey. The staff is warm and welcoming and excited to tell us about the process of making delicious organic wine.
Day 4: : SANTIAGO – TEMUCO – PUCON
– breakfast provided
After breakfast at the hotel, private transportation will take us to the airport in Santiago to catch our flight south to the city of Temuco. Once we arrive in Temuco we will travel by road through the lovely northern Lake District to the hotel in Pucon; much like Jackson Hole Wyoming, this charming small town is youthful vitality and rusticity.
That afternoon take a tour of Pucon and Villarrica. The many cultural, natural and historical places to visit in these two cities provide us with a magnificent opportunity to observe a wide verity of architecture, scenery and history unique to Chile.
If you choose to explore in Pucon, make your way down to the old hanging bridge "Quelhue". From there, on a sunny day, you can observe the Trancura River, the Villarrica, Quetrupillan and Lanín Volcanoes. In Villarrica you may want to visit the Mapuche museum; a sample of the Mapuche culture, history, traditions, and instruments and other Spanish artifacts. This indigenous group is one of the largest groups in Chile and the museum is a testament to the cultures continued survival.
Activities available in the Pucon area include: climbing Colcan Villarrica, horseback riding, rafting the Tio Trancura or Trancura, hiking the National Park Huerquehue, visit one or all of the 3 magnificent waterfalls, explore the Villarrica caves or relax in the Huife hot springs.
Day 5: PUCON – HOT SPRING AND VOLCANO CAVES
– breakfast provided
Following breakfast we will leave for a tour of impressive Waterfalls, the Mapuche Cultural Center and Hot springs.
This entertaining tour will take us by road toward Argentina. The first waterfall we visit is called "Salto de Palguin", in the river of the same name. Next we go to "Salto de la China", a 240-foot waterfall! Lastly we will go to "Salto del León". After the waterfalls we will head to Currarehue, an indigenous Mapuche village.
Curarrehue, in the native language means stone altar, is the last village before entering the Villarrica National Park. A mapuche guide will take us though Maphuche Cultural center where we will learn about their history and culture. We are also able to taste the Mapuche cuisine, which has recently achieved international recognition.
Our day will end with a visit to the Curarrehue Hot Springs; located 33 km northeast of Pucón set on the banks of the Liucura River. There are three outdoor swimming pools and 1 pool covered with a canopy, all of them with natural thermal waters.
Day 6: PUCON
– breakfast provided
Breakfast at the hotel before a day for optional activities: Trekking, rafting, horseback riding or visit to Volcanic Caves. The caves, located in the slopes of Villarrica Volcano 12 Km. from Pucón, are one of the only two volcanic caves open to visitors in the world. They were formed naturally throughout its long history of volcanic activity. During the visit, we will descend 300 meters to observe the remarkable geological formation. The caves are completely illuminated and the tour takes about one hour with an expert guide.
Day 7: PUCON –VALDIVIA – PUERTO VARAS
– breakfast provided
Breakfast followed by a morning transfer from Pucon by van to Puerto Varas stopping along the way at Valdivia; where we will have lunch and visit a bustling fish market. Depart Valdivia and check in at the hotel.
Day 8: PUERTO VARAS – FRUTILLAR AND RAFTING or HORSEBACK RIDING
– breakfast & lunch provided
Breakfast at the hotel followed by a half day trip to the Petrohue Waterfalls.
Optional/ Additional drive skirting the Llanquihue Lake arriving at Frutillar, founded in 1856 as a shipping port for the settlers living next to the Llanquihue Lake. Frutillar has experienced a significant tourist boom during the past two decades, fueled mainly by the ingenuity and effort of its inhabitants who have restored and refurbished traditional buildings and built a magnificent waterfront promenade with flowers beds, also the Museo de la Colonización Alemana (entrance fee included), an excellent insight into the life of the second generation of German settlers. Lunch Included. Return to Puerto Varas.
This may also be a good time to raft Petrohue river. A big volume river, that flows out from Lake Todos los Santos, with impressive scenery while you paddle the big waves of class III and IV rapids.
Day 9: PUERTO VARAS
– breakfast provided
Breakfast. Day at leisure for optional activities.
Visit to the National Park of Vicente Perez Rosales, Lake crossing from Petrohue to the town San Carlos de Bariloche in Argentina, the scenery is outstanding.
Day 10: PUERTO VARAS- PUERTO MONTT- PUNTA ARENAS – PUERTO NATALES
– breakfast provided
Breakfast. Transfer from Puerto Varas to the airport in Puerto Montt to board our flight to Punta Arenas. Upon arrival, welcome and transfer drive to the hotel in Puerto Natales. La Guanaca, a locally owned an operated pizzeria makes an excellent last stop for the end of a busy day.
Day 11 – Day 13: PUERTO NATALES – TORRES DEL PAINE
– breakfast, lunch, & dinner provided
Enter Torres del Paine National Park with a stunning drive.
From December 9 to December 13, overnight all-inclusive in Hotel Las Torres. Complimentary optional excursions include hiking, horseback riding, boat trip to Gray Glacier, driving excursions through the park… do it all and then enjoy both beautiful views from their bar and a Calafate Sour or any of their other fantastic cocktails without having to pull out your wallet.
Full spa activities available.
This ranch will not disappoint.
Day 13: TORRE DEL PAINE – PUNTA ARENAS – SANTIAGO
– breakfast provided
The day begins with a transfer from Hotel Las Torres to the airport in Punta Arenas to board our flight to Santiago. Upon arrival in Santiago, welcome and transfer to the hotel.
Day 14: SANTIAGO – BACK TO U.S.
– breakfast provided
Breakfast. Half day guided tour through downtown Santiago, which will include the central market, museums and a tour of the presidential palace. Late check out and Transfer from the hotel to the airport to board our next flight to US.

Hotel Galerias – Culture and Chilean identity, captured in every corner.  In the heart of downtown Santiago is the concept of Hotel Galerías. Strategically placed steps away from the main commercial and cultural activities of the country, this traditional hotel, completely restored on the year 2002, invites you to live a unique experience, in which Chile, its people, origin and cultural richness are present on every corner.
Apart Hotel EL Volcàn – A hotel for families to enjoy, with the most modern facilities, located in the heart of Pucon, four blocks from the casino, one block from restaurants and shopping centers.   We provide our passengers with modern gym equipment and aerobic classes, sauna and solarium. Volcano Apart Hotel located in the heart of the city of Pucón, has finely furnished for 4 to 6 people and beautiful and spacious suites for 2 people.
Hotel Bellavista – You can find Hotel Bellavista at the best location in Puerto Varas.  It's room, with a great view to lake Llanquihue and volcanoes, just a few steps away from the Casinos and downtown, make it the starting point for all the attraction of the area.   It has exquisitely decorated rooms, and is considered a 4 star hotel due to the quality of its services and kindness of its personnel.
Hotel Martin Gusinde – Strategically located in Puerto Natales city, the main entrance to Torres Del Paine and Bernardo O'Higgins National Park, this Hotel offers 28 totally newly renovated rooms. . The Hotel is just a few steps away of the town Main Square, restaurants, stores and the principal attractions of this picturesque Patagonian town.
Hosteria Las Torres – Hotel Las Torres has a privileged location at the foot of the Torres del Paine, the main attraction of the park, which was declared by UNESCO, an international Biosphere Reserve in 1978.  Today the hotel is one of the most outstanding in the regions and still maintains the principles of its founders, "to share the warmth of the people and the customs of Patagonia."  This includes an all-inclusive package with food and excursions.
Chile is a profusion of Spectacular Scenery: an adventure expedition of valleys carpeted in wildflowers with the majestic Andes Mountain range as their backdrop!
We will be leading a small group tour of adventure travelers to one of our most exciting destinations. Chile is a narrow ribbon of land stretching from the middle of South America's west coast all the way down to the southern tip of the continent. It contains some of the most spectacular natural anomalies in the world, from the looming snow capped Andes along the country's eastern border, to the desolate arid 'far north', to the dazzling explosion of icy fjords and glaciers of Patagonia. Chile's towering volcanoes and roaring rivers draw adventure travelers from around the world, and as you can see from our photos, offer one of the most unique photographic journeys on the globe.
Chile is divided into five regions, each unique for its climate, biodiversity and natural resources. While 80 percent of Chile is mountainous, it offers much more, from the 50 active volcanoes making up the inpenetrable wall of the Andes Mountain range, to the magnificent collision of land and sea on the Pacific coastline, which in turn gives way to lovely beaches and coves. In between is the rich and expansive central river valley, with its fabulous vineyards, ancient forests and shimmering lakes.
Our guided tour of Chile highlights three of the most impressive regions, where all of our accommodations are first class, and characteristic of that area's culture and lifestyle. We arrive first in Santiago, the capital of Chile, anchoring the northern part of the Central region. The 5th largest city in South America, now a prosperous center of commerce, it is known for its diversity, from European influence and Creole aristocracy to Pre-Columbian art. With a colonial history and modern cosmopolitan feel, the city offers fine dining, museums, shopping, and an abundance of nightlife. One of our favorite places is the National Museum of Bellas Artes, noted not only for its exhibit of quality fine art, but also for its striking neoclassical architecture. We also explore the colorful and bohemian Bellavista neighborhood, packed with bars, boutiques, and galleries. The area just north and south of Santiagio has some of the richest agricultural land in the country, and is a large producer of fruits, including the grapes from which the best Chilean wines are made. We take this opportunity to explore local vineyards and sample world-class wines.
From Santiago, we move on to the Lake District where we explore Pucon and Puerto Varas regions. The snow-covered Andes form a magnificent backdrop for the many rivers that descend to here, forming lakes and rushing over volcanic rocks to create numerous whitewater sections and waterfalls. We take advantage of this by rafting along Petrohue River, a big volume riser that flows out from Lake Todos los Santos. If you prefer, be awed by the impressive scenery from horseback, or by paddling the big waves of Class III and IV rapids. However you travel it, the photography opportunities are astounding!
The last region explored is Patagonia. Over 50% of Chilean Patagonia is protected wilderness area. Here, it's just you, the wildlife, and breathtaking vistas. We offer a variety of activities such as trekking, mountain climbing, and horseback riding. The region's surprises include the vastness of the Gray ice field that gives way to majestic glaciers and the splendor of mountain peaks like Torres del Paine. This exquisite National Park, created in 1959, was designated a World Biosphere Reserve by UNESCO in 1978. One of its many highlights is the visit to the Magellanic penguin breeding colony at Seno Otway.
You may ask how is it we choose our dates for certain tours. Chile's seasons are the opposite of North America, so when we travel, it's their Spring season. At that point the wild flowers are in a riot of bloom, the snow is still covering the Andes peaks, the rivers are flowing from the glacial ice melt, and the weather is usually very temperate. This is also on the front end of Chile's ecotourism season, which allows us to avoid the crowed peak season full of European tourists. Experience Chile's native allure and join us for this journey of cultural discovery and geographic beauty.
So narrow it's almost invisible on a map, Chile does anything but blend in when you see it in real life! In addition to the prevalence of ecotourism in Chile, sustainable development and responsible travel thinking are prioritized here. Chile is one of the top countries in the world prized for its environmental virtues, and is consistently ranked by various sources among the top 10 when it comes to environmental protection, social welfare, human rights, and sustainable (tourism) development. Biotrek Adventure Travels is dedicated to ecotourism, and well known for our responsible travel initiatives. We work hard to be socially responsible, and make every effort to promote tourism to and within authentic local communities.
PUCON
Pucon is the jewel of the Northern Lake District. We explore the pristine Lago Villarrica and ascend the profoundly beautiful Villarrica Volcano. We hike in the Parque National Huerquehue, a reserve of rivers, waterfalls, alpine lakes and Araucaria forest, and soak in the bubbling hot springs of the upscale Termas de Huife. There is also whitewater river rafting, horseback riding, and fishing and in the lakes and rivers for some exceptional 'active' fun!
PUERTO VARAS
Puerto Varas is the gateway to the Southern Lake District in Chile. A small town with charming rose-bordered streets and a provincial flavor, it features local cafes and quaint shops, and sits on the shores of Lago Llanquihe (the largest of all the lakes), with an impressive view of Osorno Volcano. From here we can drive around the lake to nearby villages, or visit Chile's oldest national park, Perez Rosales. Just 40 miles away, this park (founded in 1926) covers an area of 619,970 acres, incorporating the park's centerpiece, Lago Todos los Santos, Saltos de Petrohué, and three commanding volcanoes: Osorno, Tronador, and Puntiagudo. There's great hiking here, or we offer whitewater river rafting on the Petrohue River, horseback riding in the park and for the brave and experienced hiker, climbs to the top of Osorno Volcano. An excursion by boat across Lake Todos Los Santos to Argentina presents some of the most extraordinary scenery in the world, with some exceptional photo opportunities!
PATAGONIA
Torres del Paine National Park is the untouched wilderness of the Magallanes. The climb to the "Towers of the Paine" begins with the region's beauty visible in all directions. From our cozy hotel, the dining room's 'full-view' windows provide magnificent views of the panoramic mountain glory. As we explore the region by foot and van, we encounter much wildlife, including Andean condors, flamingos and guanacos, fox and nandu. A glacier visit by boat to Lago Grey, waterfall hikes and exceptional horseback riding trips from our ranch can be arranged. We visit the Magellanic penguin colonies at Seno Otway where the penguins are naturally curious and tame. This makes for some fun photographs!
---
Includes
All Excellent Accommodations
Ground and Transportation
Meals Where Listed on Itinerary
In-country Air Travel
Local English Speaking Guide
10 People Maximum
International Air Travel Booked Separately; Call for Quote
Travel
Travel with tour guide Sunny Reynolds, who has been showing the world to travelers since 1992. While this is not exclusively a photo tour, Sunny Reynolds as a professional photographer is happy to help all levels of photographers take better photos of their adventures.
Rates Based on Double Occupancy
Single Supplement Applies
Subject to Availability
All Prices subject to change